After rescheduling due to snow days we were thankful to finally have a chance to see Change is Simple in action at Cove Elementary School last week. We met Co-Founders Lauren Belmonte and Patrick Belmonte to donate $1,000 to Change Is Simple and watch them deliver a great lesson to a group of students. Lead educator Dom Martinelli was working with the group on their Food Miles Program that impressively incorporated a number of lessons all rolled into one fun activity that addressed math, science, and the impact of buying local food. It was wonderful to see that the students were engaged, enthusiastic, and excited to do more!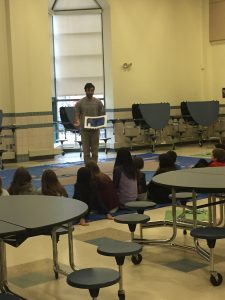 Change is Simple has been operating since 2006 and has worked with over 16,000 students across 25 schools in the Greater Boston area. They educate children on the connections between environmental and human health with a goal of empowering an entire generation of socially and environmentally responsible citizens. At its core, Change is Simple is inspiring students in grades 2-6 to adopt lifelong environmental and social responsibility. In practice, they transform the typical classroom into a construction zone and ecosystem and allows the children to become engineers and scientists. We watched as a classroom of students worked in teams to create 6-foot tall wind turbines!
The team members of Change is Simple have backgrounds in science and education and they regularly include interns from schools such as Northeastern University and Endicott College. Their educators work directly with teachers and ensure that all of their lessons fit into the school curriculum. In addition to coming to the schools themselves four times per school year, they provide lessons and projects for the students to work on between visits.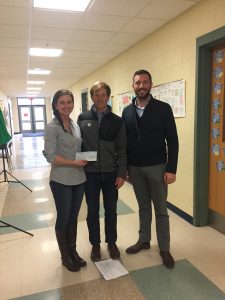 In addition to working with local schools and complying with the schools' curriculum standards, they also offer fun and educational summer programs that anyone can join. It was a great pleasure to see Change is Simple doing what they do – teaching kids in a way that is fun!
To learn more about how to take action or bring Change is Simple to your school, visit www.changeissimple.org/take-action
If you'd like to learn more about interning with Change is Simple, visit www.changeissimple.org/internships
Don't forget to like their Facebook page www.facebook.com/changeissimpleinc to stay up-to-date on their events and news.
Remember that you can nominate a charity any time by going to our nominations page.
SHARE THIS POST to help us support
our community's charitable organizations: