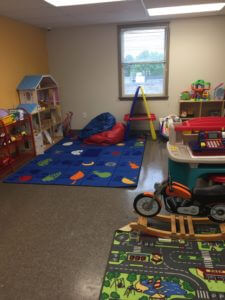 Beverly Bootstraps started in 1992 as a food pantry in the basement of the First Baptist Church. Today, it is so much more! We had a chance to meet with the Director of Donor Relations, Heather Johnston, to get a full tour and more information about all the services that Beverly Bootstraps provides, thanks to the generous support of donors, volunteers and the community.
Beverly Bootstraps significantly impacts our community's families. In 2016 they:
Distributed over 300,000 pounds of food
Distributed over $99,000 in financial assistance
Prepared 222 tax returns with clients earning a combined $177,289 through the Earned Income Tax Credit
Helped 92 students study for the HiSET Test Prep program with 20 students passing the exam
Enrolled 166 students in their ESOL classes
Assisted 55 students in their College and Career Readiness classes
Helped 22 elementary and middle school students in After School Programs
Provided 644 backpacks filled with school supplies
Sent 86 children to summer camp
Gave 663 children holiday gifts
Their 200 volunteers put in over 15,000 hours!
Overall, more than 1,500 individuals and 683 households were given the support and services that they needed, thanks to Beverly Bootstraps.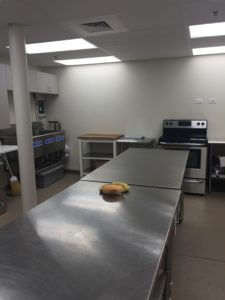 One of the special programs we learned about was the Food Pantry's Cooking Matters class. Cooking Matters is a six week class teaching participants to shop for and cook with healthy ingredients on a limited budget. Each session's menus are based on suggestions and input from the students, but each recipe used makes a meal that costs under $10 and can feed a family of four.
The last meeting of the session is held at a local grocery store, where class members are shown how to shop on a budget; what items are better choices than others, how to select fresh healthy produce, and what is the best value for the dollar.
Students will come away from this class with skills to help them eat healthier that will last a life time.
Beverly and Manchester residents may visit the food pantry and also "shop" for staples and extras sections to choose the food they prefer including fresh produce and up to two toiletry items, as well as visit the cold counter to receive their dairy and protein options. They even provide home deliveries to homebound clients who are unable to visit the food pantry.
The Food Pantry is located at 35 Park Street, Beverly, MA and is open Monday, Wednesday, Thursday, Friday from 10:00-12:15pm and Tuesday from 5:00-6:45pm.
Anyone can call 978-927-1571 to set up a time to meet with a case manager and learn about all the available services and support and to get assistance signing up.
Beverly Bootstraps is privately funded and there are lots of ways to show your support to this amazing organization! You can donate money, donate food, donate items to the thrift shop, volunteer your time and more. Please visit their website for more information: http://www.beverlybootstraps.org/
You can also like their Facebook page to stay up to date on events and news: www.facebook.com/beverlybootstrapscs
Remember that you can nominate a charity any time by going to our nominations page.