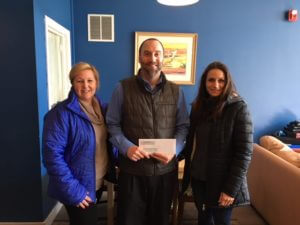 This month we were thrilled to learn more about an organization that does so much for our community but that we didn't know much about! We met with Russ Queen who shared more information about the wonderful and needed work that they do.
Family Promise North Shore Boston is located in Beverly and has been in operation in this area for over five years. They're a a temporary homeless shelter for families that partners with local congregations to house the families that they serve. Families in need receive meals and overnight lodging at the congregations, which take turns sheltering families one week at a time. Then, during the day, guests of Family Promise use their Day Center where social workers help them attain jobs and sustainable housing, enroll in training programs, obtain job development skills, further their education and other services as needed.
They consider their greatest success marker to be the fact that families who have successfully transitioned into permanent housing from their residential program have never re-entered another form of shelter. This speaks volumes in regard to the sustainable nature of the families they serve after they leave the program.
Family Promise North Shore Boston has five distinct programs:
Preventative Case Management: any family or individual who is at risk to experience homelessness can access case management.
The Residential Day Program: which includes shelter and an intensive case management program to prepare families to succeed
After Care Program: all families receive follow-up care for one year from FPNSB's case manager.
Volunteer Training Program: all of the volunteers that wish to serve with FPNSB attend a 1.5-hour training to learn about the program, their roles and responsibilities and how best to serve the families we serve. All volunteers receive a CORI check.
Transitional Housing: in October 2017, FPNSB signed a three-year lease for an apartment as an in between step for families. This allows a middle step in the event that permanency requires more service time.
We are so grateful to Russ and his team for the work that they do, and so happy to spread the word about their organization and its services.
If you'd like to volunteer, please contact their administrative assistant, Jane Luangrath at [email protected] to learn about the orientation program. To donate, please use this link to help support their vital services to families all over the North Shore.

You can also like their Facebook page to stay up to date on events and news: www.facebook.com/FamilyPromiseNorthShoreBoston
----------------------------
Remember that you can nominate a charity any time by going to our nominations page.